In order to cope with emergencies such as in Haiti, where the local medical structures had  difficulties operating after the terrible earthquake of January 2010, and to supply our mobile clinic in Cambodia, twice a year we send a large provision of basic medicines. Buying them in Switzerland, directly from the producers, we pay for them much less than if we bought them overseas.
It is very hard in Haiti to find doctors and nurses willing to render their services free of charge. In the capital city Port-au-Prince alone there are hundreds of shantytowns, where children and adults live in extremely poor hygienic conditions. Many people are seriously ill and the few existing hospitals are overcrowded, unable to receive new patients. We believe it is of vital importance that we support the country by sending as many medicines as possible.
Our mobile clinic in Cambodia copes with the needs of the most destitute people living in the suburbs of Phnom Penh and in the surrounding countryside. These people have no chance to get medical help, because they live outside urban centers. In order to carry out their mission, the local doctors need several medicines which are essential in giving first aid and which are not easily available at affordable prices.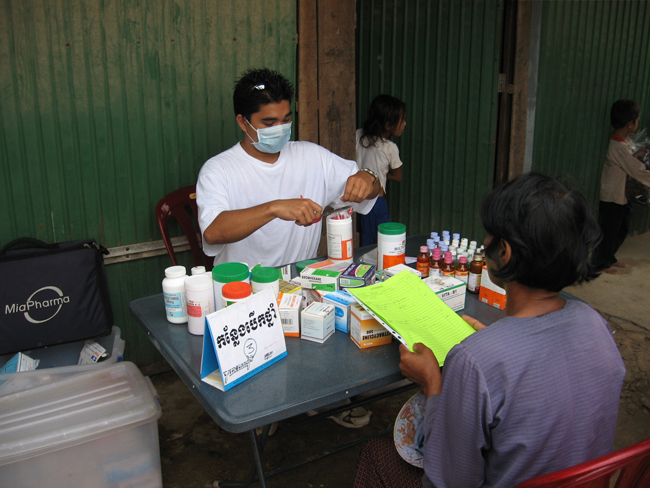 Here is a list of medicines and medical instruments which we regularly send to Haiti and Cambodia:
Acetylsalicylic acid
Albendazole
Amoxicillin
Ampicillin
Benzathine benzylpenicillin
Ceftriaxone
Ciprofloxacin
Chlorphenamine maleate
Chloroquine
Sodium chloride
Cloxacillin
Co-trimoxazole
Dicoflenac sodium
Enalapril
Erythromycin
Furosemide
Gentamicin
Glibenclamide
Gliseofulvin
Ibuprofen
Mebendazole
Methyldopa
Metoclopramid
Metronidazole
Miconazole cream
Multivitamin
Neomycin
Nifedipine
Nystatin
Omeprazole
Paracetamol
Propranolol
Ranitidine
Ringer's solution
Salbutamol
Iron(II) sulfate
Tetracycline eye ointment
Vitamin C

Catheters
Lint
Sterilized surgical gloves
Adhesive tape
Syringes and needles
Insulin syringes